"Solving Construction Problems is Our Specialty"
Congratulations to Gordon Martin Builder, Inc. who on May 6th at the State Capitol Rotunda was one of several recipients of the "2015 Annual Governor's Award for Historic Preservation" for their exemplary management of the Rehabilitation of the Bohm Theatre in Albion Michigan. We are proud to have been part of this historic project, which will be the Cornerstone of the revitalization of Downtown Albion. Follow the link below for more information.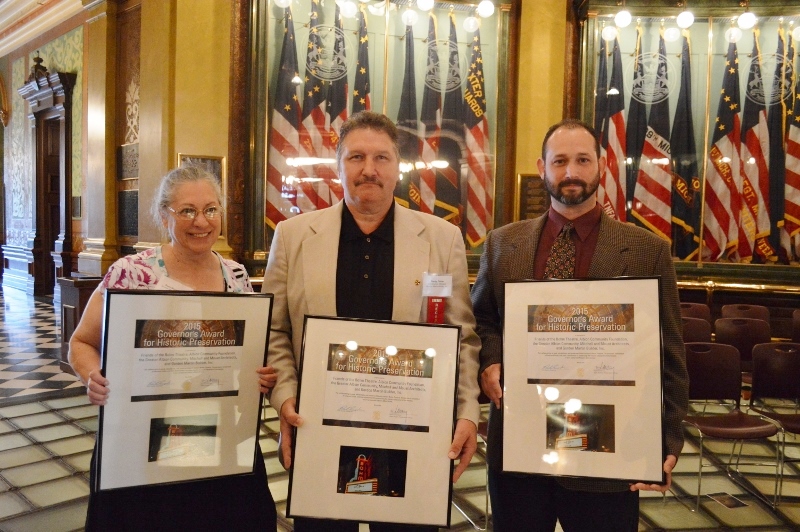 Gordon Martin Builder, Inc. has always believed that construction is more than just a building. We pride ourselves in great customer service and unprecedented attention to detail. With over 60 years of experience, we are able to make the construction process seamless from the design phase to the end product. The customer's needs are our top priority. Our "Team" approach to the construction process allows us to provide our customers with both high quality and value for their projects. We work diligently to make sure our projects are completed on time, within budget, and to the project specifications. Our high attention to construction detail allows us to produce an end product that meets all state and local code requirements, all design criteria, the needs of the customer.
Gordon Martin Builder focuses (mainly) in commercial, educational, health care and industrial facilities construction (both new and remodeling). We also provide some residential construction services.
Our Construction Services Include:
Project Management
Design/Build Construction

General Contracting

Licensed (Michigan Builder's License #2102013241) and Fully Insured
---